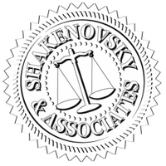 Shakenovsky & Associates Client Testimonials
September 15, 2022
"You are the best of the world!" 
Maurice Bisaccia
February 16, 2022
"I would give 10 stars if I could!
Richard and team were amazing in their professional service. My partner and I were struggling to deal with my Partner Visa application (820/801). Richard, Rachel and Bella were very supportive and helpful throughout our journey until we got my 801 visa granted.
Richard's excellent service make us feel great in our toughest times. I could not recommend him enough. Truly, thank you!"

Gabriel Valloreia
Tuesday 1 February 2022
"Me and Mauricio are just amazed with such great news!! We are extremely happy !!!!!
I want to thank you both so much for all the support and such amazing work!
I have no words to thank you enough.
We will definitely contact you next year to check for our citizenship eligibility/application!
Thank you again!!"
Alana
Thursday 27 January 2022
"We have been working with Richard and his team for a few years on different types of visas.
Due to the critical mistake made by one of our previous migration agents, we ended up holding a short-term visa with no pathway to permanent residency. We have been living in Australia for more than ten years and our two children were born here. The situation with the short-term visa became very frustrating to us. We contacted several migration specialists and they refused to work with our case, as it appeared to be very complicated.
They all know how to do their job well, but no one was ready to look at our situation out of the box and take responsibility for the non-standard case. However, the standard ways did not work for us. We had to find someone who holds professional expertise and confidence. We are happy that we trusted to Richard and Shakenovsky & Associates.
Throughout the process we were carefully instructed about our case strategy and all the steps we had to undertake to be able to apply for the medium-term visa. As a result, we have got our four-years visa granted.
We are grateful to Richard and his team for constant assistance, professional approach, the highest expertise and reasonable confidence. We strongly recommend their professional services to everyone who seeks migration advice from true experts."

Nina
Tuesday 21 December 2021
"Dear Richard, you made my day/year with your call this afternoon. I am so happy for our family to finally rest in the knowledge of knowing we will all be Australian. Thank you so much Richard (& Team & Nick) for your professionalism, guidance, perseverance and friendship to achieve this outcome."

Todd & Clan
"Highly recommended, Richard and his team are the best in town."

Andrew Henze
My appreciation will never end and will never know boundaries
September 17, 2020
"Hi Richard,
Thought I would say thank you one more time for your assistance this year.
Some great high-lights of the past year when you helped us to defend the position against unfair competition, also assisted with Eugene's and Margarita's cases. All of which are very much critical, life changing situations close to my heart. My appreciation will never end and will never know boundaries.
I hope all's good for you and RS Lawyers! I'm very much looking forward to working with you in the years to come"

Den Burykin, Fastlane Solutions
I am speechless
September 3, 2020
"Mr Richard and Pamela
Thank you so much for all your help during this process.
We must definitely contact you for our citizenship.
I am speechless .
Thank you Thank you"

Daniel Acosta
Pereira Journey – LAST MINUTE MIRACLES.COM
"A lengthy 4-year process… Let me start from the beginning.
We first used an immigration officer back in 2016. My wife and I were assessed, and it was decided that I fitted all the criteria needed at the time. We gathered and prepared the documents, submitted to the Australian Government as well as applying to AIM. My skill set is Sales and Marketing Manager ANZSCO Code 131112. The application was submitted and 8 months later, AIM responded saying that our application for ANZSCO Code 131111 was declined. Only then did we realise that the immigration officer representing us at the time had submitted the documents to AIM under the wrong code. My wife and I were distraught and extremely despondent. We did not know what to do next!
That's when I had a chat with Paul Netto (brother in-law) and we focused on the possible next steps. Paul suggested a lawyer originally from South Africa who specialises in migration and asked if he could meet with him on our behalf. That's when Richard Shakenovsky from Shakenovsky and Associates came into my life.
I had a skype with Richard and it was decided that we could proceed with a new application to AIM using the correct code. The first step was to explain to AIM that I was previously misrepresented. Richard, Paul and I spent hours on emails back and forth, numerous skype sessions and several late nights – eight months later we were ready to re-submit to AIM. The AIM application was approved within two weeks. Due to my age approaching 40 and a shortage of points I had to write the English Test. I was using the PTE English test system and I had to achieve 8s for each category. I was unable to achieve that before my 40th birthday. So now 40, I did not have sufficient points to apply for any visa into Australia. My wife and I felt crushed!
A short time later Richard sent Paul and I an email explaining that the Australian government were changing the regulations regarding immigration to Australia which would only come into effect on the 16th November 2019. At that stage Richard did not know what those changes would be and how it would affect us.
With a never give up attitude, we started looking at different options… One option that looked really good was New Zealand. In order to qualify I needed to get a formal job offer, the visa process would be quick and easy from there.
So what did the Pereira's decide to do? We packed our bags in pursuit of that New Zealand job offer.
In August 2019 my family plus Mom (who lives with us) flew to Australia… my wife and I would carry on to New Zealand, away from "home" for 5 weeks in total. We left our 3 children with my sisters and Mom in Sydney. That exercise proved fruitless and we returned back to South Africa having achieved nothing, we were back to being distraught and many dollars down.
At this stage it feels like every door is being closed and it's getting harder and harder to find an open door. 16th November 2019 is upon us and the new immigration laws are announced. Richard is interpreting the changes and how it will impact us. A few days later Paul and I received a long email from Richard explaining what options I had with all the new laws, basically the only option I had was to find a job in regional Australia…
I began the job hunt yet again, this time in Regional Australia. I found a job with Mitchell's Fruit and Veg in Gympie, QLD. That's when Richard performed his magic and started the immigration process for the 494 Regional Sponsored Visa. Everything was running smoothly with all was falling into place…
Until COVID-19… coronavirus was beginning to affect not only China but the rest of the world. Panic hit, Italy was badly affected, border closures and lockdowns were beginning to happen around the world. Paul and I would chat on a daily basis trying to predict what Australia would do next, the risks if things changed or when they might change…
My 5-year working visa was granted on the 19th March 2020. Paul was so excited he called to tell me at 1:30am, South African time, "now the ball can start rolling!" Little did I know how quickly things would roll. Not long after our original conversation Paul called again, as of the 20th March 2020 at 9pm the Australian borders would be closed. I needed to get on an airplane that night, 19th March 2020. I called my wife and explained the situation and that we needed to fly that night. "That's impossible we can't leave, nothing's been done," was her reaction. Our house was not packed, everything else that goes with emigrating was not organised. I only managed to get one ticket for that night's flight and we decided that I had to go (which I did) not knowing when I would see my wife and children due to the COVID-19. I landed in Australia on 20 March 2020. Paul fetched me from the airport, I headed to his house for 2 weeks of self-isolation when Paul begins the update of what has happened while I was on the 11 hour flight…
Megan and the children are booked on Saturday's flight the 21st March 2020 , they had been in contact with the Minister's office in QLD, Mr Llew O'Brien to get an exemption to allow them to enter Australia's border (borders are only open to citizens and permanent residents).
At the same time, we are trying to get my Mom, who lives with us, to Madeira – her birthplace. We finally manage to get her on a flight to Madeira via London also on the 21st March 2020.
Saturday 21st March 2020, Megan the 3 children and Mom go to the airport. Megan checks my Mom in, she's ready to fly to London and then on to Madeira. Megan then goes to the Qantas counter to check in only to be told that they are not allowed to fly because they have not been exempted. She is further informed by the Qantas staff that due to flights being stopped and borders being closed they would only be allowed to fly on the 1st June 2020. The kids were hysterical as they did not know when they were going to fly or see their Dad. Megan expressed that she is not doing that again, and she will not go to the airport without the exemption letter in future.
In the meantime, my Mom arrives in London and has a private transfer from the airport to the Hilton and later one of my sisters confirmed that she had checked in was settled. My sister later speaks to my cousin in Madeira who informs us that all borders in Madeira are closing the following day and my Mom would go into forced quarantine for 2 weeks. Mom was happy; she flew business class to Madeira and the government put her up in a five start hotel with 3 meals a day. She was not complaining! Oh I forgot to mention that Mom did not collect her bag at the airport… Four days later in quarantine and after many tests with all results being negative for COVID-19 they escorted my Mom to her house in Madeira where she had to self-isolate for 2 weeks. So Mom is home, luggage found and returned, she's safe and healthy, box ticked.
Back to Megan and the children, they've been refused authority to fly and had to head back home…Saturday 21st March 2020, Paul went to the Qantas office at Sydney's airport to change the flight to Saturday the 27th March 2020. All is good, flights booked, the exemption papers were in and we Megan had time to pack up the house, sell the cars, say goodbye to friends, organise the pets, wrap up everything, store our belongings…do as much as allowed during the Covid -19 crisis.
Monday morning, Australian time, 23rd March 2020 Megan calls me dropping another bombshell: South Africa is going into complete Lockdown from Thursday 26th March 2020 at midnight. Off Paul goes back to the airport, changes the flights again, for Megan and the children to fly out of South Africa on the last scheduled flight to Australia on Thursday 26th March 2020.
Paul informs Richard of the latest developments. Richard suggested that we resubmit the exemption request with new flight details. Richard, being brilliant at what he does, also suggested that we get a psychologist's report to support our new application. Megan contacted C Cole who agreed to help. I had a telephonic session with C Cole, Megan and the children went to see her at 4pm South Africa time. She promised Megan that she would have the report ready for Richard by 7am 24th March Australian time, and truth be told it was there and ready for submission. On Tuesday 24th March 2020 the new application for exemption along with the new flight details were submitted along with the psychologist's report.
I am in Sydney in isolation when the Queensland Premier announces on the 24th March 2020 that the Queensland borders will close from midnight 25th March 2020.Taking this new information into account it was decided that my nephew (who is distance learning as schools have closed because of COVID-19) and I would do the long 1200km drive from Sydney to Gympie. We needed to make the Queensland border before midnight on the 25th March 2020. Wednesday morning Jordan and I leave and we made it to Gympie with plenty of time to spare.
For us in Australia it's a waiting game, for Megan completely the opposite. She has 3 days to get everything done, pack up house, sell the cars and still care for 3 children. At this stage we have still not heard back from the Department of Immigration regarding the travel exemption for Megan and the children. Wednesday comes still no answer… Paul calls Raelene Hurley from the Minister's office in QLD, who was very committed and helpful and said would see what she could do. Thursday morning, Australian time, 26th March 2020 and still nothing, no email, no phone call, nothing as yet, keeping in mind Megan and the kids are scheduled to fly out of South Africa that night. Megan and I are constantly calling for updates, no updates. 5.00pm Australian time, and no update… Paul decides to give it one last attempt and emails Raelene at 5.30pm in a desperate plea for help! Raelene emails back at 7.30pm advising that she has sent it on to the Minister of Immigration and will continue following up, conscious that Megan's flight is that day…. Raelene's last communication with Paul was at 10.30pm, advising that she does not have any update however she is going to bed and hopes to hear good news in the morning.
On the morning, 26 March 2020, South African time, Kiana (my eldest daughter) says, "Mom we need to go to the airport tonight".
She has a good feeling that they will allow them on the airplane that night. At 2pm Megan and the children go to the airport and wait in the long queue for check in. For me, that was one of the most nervous and anxious times of my life. The 2 to 3 hours they spent in the queue felt like an eternity. Megan was helped by the nicest lady at Qantas, Megan gave her all the supporting documents, the letter from the psychologist, the reference numbers for the exemption application, letter from Raelene from the Minister's office in QLD. The lady asked Megan to wait a while and she went off to the back office, a nerve-wracking time for everyone. Moments later the lady returned, explaining to Megan that she called Border Control in Australia and she was awaiting an override code. A few minutes later the lady announced that all was in order, the exemption was approved and they were able to board the flight. Moments later Megan called me and told me the great news, that I would be seeing my family soon. It was truly a miracle and everything came through just in time, LAST MINUTE.COM.
I called every one of my family members to let them know, "we did it, they are flying tonight, on the last flight out of South Africa to Australia."
On the morning of the 27th March 2020 Paul and I begin discussing the next step, when Megan and the kids should fly to Gympie? It was decided to fly them on Sunday 29th March 2020. Paul and Sandi would drive our new vehicle up to Gympie on Saturday 28th 2020 and Tima would take Megan and the children to the airport. After much debate with Paul, Sandi, Megan and myself we decided that we need to get them to Gympie sooner than the original planned day. Online again -rebooked the flights for 10am on Saturday 28th March 2020. Luckily, we did because the that Saturday flight into the Sunshine Coast was the last flight in or out of the Sunshine Coast airport for at least 3 months.
I collected them from the airport at 11:30am on the 28th March 2020. They were interrogated at the airport and were told to self-isolate for 2 weeks. The Pereira family were reunited!
Paul and Sandi begin their long drive from Sydney to Gympie. After several hours they reach the QLD border are interrogated by police at the border. No work exemptions were granted meaning Paul and Sandi you may enter QLD, would need to self-isolate for 2 weeks.
At this stage of the adventure everybody is where they need to be. Paul, Sandi and Jordan are in self-isolation in Gympie, the Pereira's are altogether in self-isolation in Gympie, Tima is in Sydney looking after things there and Mom is in Madeira enjoying her home. An adventure with a whole lot of hurdles overcome. We have a lot to be thankful for and for all the miracles that have happened during this whole process. We are forever grateful to all the people who helped to make this possible. Everything that happened was last minute miracles.com. We literally shipped people around the world and immigrated to Australia within 7 days.
When the Nettos, Pereiras, Richard Shakenovsky and prayers are involved we can achieve anything. Never give up, never lose hope, always keep faith and you will achieve anything.
I would like to thank everyone involved in making our miracle happen"

Dinis Pereira
July 15, 2020
"I have an utterly pleasant experience of services received from Shakenovsky & Associates.
My dynamic circumstances, broad international experience and time pressure were taken onboard as a professional challenge to the attorneys.
They applied the long term experience to assist me with the focused application representing the best sides of my credentials, fitting into the high Australian regulatory standards. This is obviously an example where all elements from my profile through lawyers' scrutiny up to the actual needs of the Australian labor market were met. My visa submission outcome is pure evidence of consultative and result-oriented approach offered by Shakenovsky & Associates even during the disruptive times. I highly advise Richard, Pamela and their peers as migration and legal representatives to anyone concerned."

Eugene Fedorchenko, BD Partner at Fastlane Solutions Pty Ltd
We look forward to continue using your services
July 10, 2020
"Hi Richard,
What fantastic news !!
We truly appreciate all the work you and Pamela have done for us. We look forward to continue using your services when the citizenship application comes around.
Again, thank you"

Lyn and Matteo
Civil Litigation
12 March 2020
"We want to thank you for all your hard work and efforts in winning the case for us, you have been professional, responsible, efficient and always reliable. We only wish we had come to you sooner. We will definitely recommend you to anyone who requires legal assistance."
Shakenovsky & Associates took over the Civil Litigation matter from another law firm on behalf of the Plaintiff. Through swift action, we managed to settle favourably in favour of our client."

Lili
Above & Beyond Service
23 January 2020
"Good morning Pamela & Richard,
On behalf of myself and John, I just want to thank you both & Rachel for all your help in obtaining our PR visas.
The service we received from everyone in your office was absolutely outstanding and so professional. You went above and beyond to ensure we were confident that we dotted the I's and crossed the T's. You all made the whole process so easy for us, especially during a personally difficult year for our family. You really have a fantastic team there, a credit to you all.
I am sure we will be in touch sometime next year to discuss the processes for citizenship.
Thanks again and all the best, "

Victoria
"Richard and Pamela are amazing. They not only helped me obtain my Permanent Residency through careful strategy with my employer as well as guiding me every step of the way with the documents and letters I would need, but they also helped me obtain my citizenship to Australia. They changed my life, thank you!"

Cally Ulbricht
Another Successful Application For Visa Nomination
5 December 2019
"Wonderful!
Another successful application, skilling the beautiful South Coast with young talent and ensuring Bannisters and Rick Stein maintain our very high standards.
Many thanks, Richard and Pamela for your work again."

Rupert Sakora
Visa Approval
29 November 2019
"Hi Richard, I just wanted to thank you sincerely for your professional and efficient service. I have had dealings with many lawyers in the past and you have been the best by far. You took a complex situation which had caused me much stress and frustration and turned it into the best outcome possible.
My gratitude also extends to Pamela for her outstanding commitment and service.
I give you guys 10 out of 10.
Thank you once again."

Georgea
A 10 Out Of 10 Experience
29 November 2019
"Hi Richard,
I just wanted to thank you sincerely for your professional and efficient service.
I have had dealings with many lawyers in the past and you have been the best by far. You took a complex situation which had caused me much stress and frustration and turned it into the best outcome possible.
My gratitude also extends to Pamela for her outstanding commitment and service.
I give you guys 10 out of 10.
Thank you once again."

George Soboh
Permanent Residence Visa Granted
4 October 2019
"Amazing!!!! What a Team!!!
I feel great! Thank you so much!!!!!
I am feeling a true blue indeed! Fair dinkum!
Cheers mate!!! No worries! Good on ya all."

Nic
10 October 2019
"Thank you so much Richard!! Fantastic news to read this morning :)"

Camille
100% Application Rate For AWS
18 October 2019
"Thanks, Richard.
Great news! That maintains the 100% application success rate delivered by Shakenovsky & Associates for Advanced/Science Warehouse visa applications over the years. Well done and thank you for your continued professional assistance."

Adam Bowles, AWS
September 17, 2019
"Thank You So Much
Thank you so much for your all hard work.
Came much faster than expected, really happy to see this.
Thanks again."

Suraj
Sep 10, 2019
"Hi Pamela and Richard,
I honestly cannot thank you both and the rest of your team enough for everything you did in this process. For weeks now I have had doubts that it wouldn't be approved but I was proven wrong.
I could not be more grateful for the urgency and dedication from you both on resolving all the issues and I am extremely lucky to have been referred to you. This truly is a dream come true!
Many thanks"

Stefanie
Jul 5, 2019
"Thank you for all your hard work, help and support during this time to make our dreams come true. It's certainly not easy and we wouldn't be able to make it without your help. Words can't describe how much we are grateful for it.
Once again thank you very much and we wish you all the best"

Edy & Julia
Jul 5, 2019
"Richard,
I am writing to thank you for all the outstanding and tireless work you have done. As you're aware the process of obtaining a permanent residency is an arduous endeavour; however, you have not only conducted yourself professionally and efficiently, but you have continually motivated me to not give up on my goals.
Thank you again, from the bottom of my heart."

Mila Guerra
Best Lawyers Ever
Jul 5, 2019
"I don't know what I would have done without the help of Richard and his fantastic team! They are so thorough and direct in all there work they do, They truly are the most amazing lawyers to have worked with even for a short time! Thank you so much for being able to help me stay in Australia and to also stay with the company I'm working for, Bannisters's! I can't thank you guys enough! Thank you for everything"

Conor
Great News!
Mar 22, 2019
"That's great news and in record time!
Thanks again for your help with this submission.
I will be in touch again shortly regarding the second application.
Kind Regards"

Paul Khouri
Mar 20, 2019
"Fantastic news!! Fantastic team!! Let's go out for dinner and celebrate. It's on me."

Florin Vasile
Mar 13, 2019
"This is so exciting I can't believe how quick it's come through
Thank you so much for all your hard work and effort in getting me this granted.
I really really appreciate it.
What a great weekend I'm going to have now, celebrations are definitely in order."

Vicky Allen
March 11, 2019
"I attended at Richard Shakenovsky's office with a close family friend to discuss her immigration options. Richard provided invaluable help and assistance. He is an experienced and immigration lawyer who guided us through what is a complex process."

Vicky Edema
March 6, 2019
"Not only is Richard smart and professional but I think the immigration department knows he isn't into wasting their time with applications that have little merit so his advice is worth paying for and paying attention to.
Additionally he is a charmer to deal with ."

James Elliott
Feb 21, 2019
"Awesome news. Thank you very much for your and your teams help over the last 12 months. It's been a pleasure dealing with someone so professional and efficient"

Aaron Aston
THANK YOU FOR MAKING OUR DREAMS COME TRUE
July 8, 2013
"OMG!!! We cannot believe it!!! WOW!!! THANK YOU SO MUCH RICHARD!!!
I am in Queensland at the moment and I will be back in two weeks and I will contact you because we would love to celebrate this FANTASTIC ACHIEVEMENT with you!!!
THANK YOU THANK YOU THANK YOU THANK YOU THANK YOU THANK YOU FOR HELPING MAKING OUR DREAM COMES TRUE!!!
YAYAYAYAYAYAYAYYAYAYAYAYAYAY!!!!
We are very proud to be your clients!!! You and your team are FANTASTIC!!!
Thank you AGAIN!!!"

Salene Souza
EXCELLENT HELP & ADVICE IN ORGANISING OUR FAMILY VISA
July 8, 2013
"Dear Richard
I just wanted to add my thanks to those of my husband, for your excellent help and advice in organising our family visa.
I can't tell you how relieved and grateful we all are, particularly as we were able to include our elder daughter Chloe on the application, which we would not have thought to do
without your sound and thorough expert advice and experience!
Many, many, thanks once again for all your hard work!"

Hilary Baldwin
Of The Highest Quality
July 19, 2018
"One Hundred Hospitality has worked with Shakenovsky & Associates for the past 3 years. Richard and team have managed all our immigration matters, their service is detailed and of the highest quality. We have only ever had positive outcomes in all matters dealt with by Richard and team, so if you want to be represented by the best, I cannot recommend Richard and his team highly enough."

Zae Greenwood, One Hundred Hospitality
Jun 21, 2013
SHAKENOVSKY & ASSOCIATES HAS PROVIDED EXTENSIVE EMPLOYMENT LAW ADVICE AND DOCUMENTATION TO OUR TOTAL SATISFACTION
"Shakenovsky & Associates has provided extensive Employment Law advice and documentation to our total satisfaction. The firm has made a number of successful applications on our behalf for a Standard Business Sponsorship.
The price quoted to prepare all the documentation was agreed in advance. Regardless of the time it took, including follow-ups, the application was completed efficiently, in a timely manner and to the quoted figure.
Richard is the most personable person to deal with. He is down to earth and is able to digest quickly what is required."

Jorian Catzle, Vimwood Australia Pty Ltd
RICHARD HAS BEEN IMI'S SOLICITOR SINCE 2002
Jun 21, 2013
"Richard has been IMI's solicitor since 2002. His legal assistance to the company includes employment, immigration and commercial contracts and jury exemption applications. Richard's work is consistent in its excellence. I wholeheartedly recommend Richard's firm, Shakenovsky & Associates."

Doron Rom, Information Management Integration Solutions Pty Ltd
WORKING WITH SHAKENOVSKY & ASSOCIATES HAS BEEN A POSITIVE EXPERIENCE
June 21, 2013
"Working with Shakenovsky & Associates has provided us with only positive experiences. We have been relying on and using the firm for nearly 2 years, due to the firm's high success rate, efficiency, and it being very helpful in catering its services to our needs. We regularly recommend the firm to others, regarding both business and personal matters. The firm's work in immigration matter is exceptional, especially when it comes to employer sponsored migration visas. We have no hesitation in recommending the firm to anyone."

Basia Jerzyk, Fratelli Fresh Pty Ltd
I MET RICHARD IN A TIME WHEN I FELT LIKE I WAS IN A DEEP SEA
June 21, 2013
"I met Richard in a time of my life when I felt like I was in a deep sea and had no boat. I had never been in a legal dispute before and felt alone with the other side coming at me. I had a lawyer at the time I met Richard, but within seconds I knew Richard was the kind of support I had been wanting for the past month. Richard said to me after our first meeting that "it is my job to do all the worrying, now go home, relax and leave it to me". These words sent my anxious, stressed and concerned shoulders, plummeting to where they should rest. I did sleep well that night. Throughout my 5-month legal battle with Richard representing me, this feeling continued and I honoured all suggested ideas from Richard, thus winning my case. Richard is not only highly capable at his job as a solicitor, but he is a man of integrity and heart.
I cannot recommend Richard highly enough. I have already done so and will continue to do so. If you want someone who can face an imposing situation and treat you with kind, honest and reassuring information, Richard is the person for you. The firm will always have my deepest gratitude."

Vanessa Gray, Vanessa Megan Pty Ltd
SHAKENOVSKY & ASSOCIATES ARE OUR PREFERRED COMMERCIAL LITIGATION LEGAL REPRESENTATIVES
June 21, 2013
Estate Planning and Commercial Law
"Shakenovsky & Associates are our preferred commercial litigation legal representatives. Over the years, our matters have always been https://www.viagrapascherfr.com/viagra-prix-maroc-original/ professionally, competently and diligently handled. They go far beyond the call of duty when it comes to service. We have enjoyed a 100% success rate in the majority of matters"

Ray Sfeir, Linkware Australia Pty Ltd
AS A FINANCIAL PLANNER, I REGULARLY APPROACH AND REFER TO SHAKENOVSKY & ASSOCIATES
June 21, 2013
Estate Planning and Commercial Law
"As a financial planner, I regularly approach and refer to Shakenovsky & Associates estate planning clients. The firm has advised, drafted many wills, enduring powers of attorney and enduring guardianships.
There are times in your life when you need a lawyer. I have never needed to go anywhere other than Shakenovsky & Associates.
Richard has a genuine concern for his clients and a wide range of knowledge. He is always accessible and takes the time to understand my, and my clients', circumstances. Richard responds diligently to my queries with smart and competent advice.
The service is exceptional. Matters are dealt with effectively, efficiently, and not to mention successfully.
These are the reasons why I would never need to look further than Shakenovsky & Associates; having benefited from Richard's services for the past 16 years."

Ron Geffin, IMR Financial Advisers Pty Ltd
Level 4, Suite 401/191 Clarence St, Sydney NSW 2000, Australia
GPO Box 5432, Sydney, NSW 2001
Reach A Professional Lawyer Today