Conveyancing and Property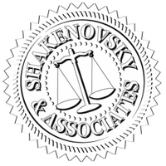 Conveyancing & property services
Conveyancing and Property
Shakenovsky & Associates works closely with our Conveyancing and Property Law Expert, Stella Gishen, who we will put you in contact with upon inquiry.
Stella Gishen Solicitors is the Legal Associate for Shakenovsky & Associates focusing on Property Law
Stella is the Principal Solicitor at Stella Gishen Solicitors and operates independently of the firm. She offers over 25 years of experience and expertise to our clients tailoring our services to meet your needs for legal services specialising in property law. 
Level 4, Suite 401/191 Clarence St, Sydney NSW 2000, Australia
GPO Box 5432, Sydney, NSW 2001
Reach A Professional Lawyer Today